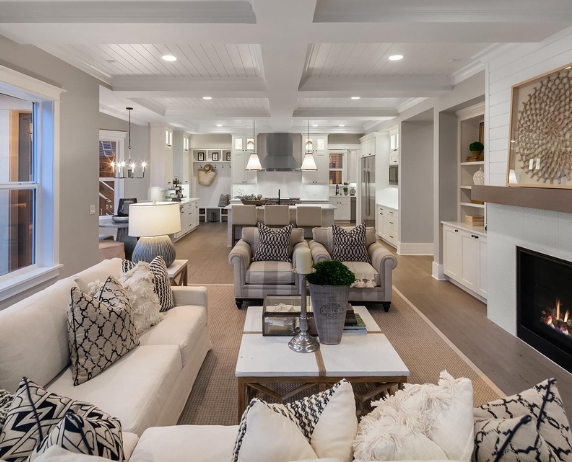 New Home Construction Painting in St. Charles and Greater Area
When building a home, whether you are a contractor or a future homeowner, you have to tweak many moving parts and make sure that it all comes together in the end. It is not a project for the faint hearted. You will need to make sure that the foundation is sound, that the structure is strong, that the insulation is properly installed, and that the electrical system runs without a hitch. For many of these components, you will need specialized help. But what about the final touch – the painting? Surely, you can work with a regular contractor at that point, right? Actually, painting requires as much expertise as any other activity in the construction business, and it is the icing on the cake you could say. It is the final step that brings it all together, which will determine if a house is cozy and appealing, or if it stays on the market for months and years on end. So how exactly does a professional painting company like Prime Time Painting benefit your building project?
Everybody can paint a room or an exterior wall, but a quality finish requires the right tools and the right skillset. The professionals at Prime Time Painting have years of experience when it comes to picking the right paints, the right color, and completing the project with a perfect finish. After all, you don't want to notice imperfections in the paint job after you move into the home. By hiring a professional, you make sure that there will not be any unpleasant surprises when you negotiate the selling price, or when you finally move into your new home.
Help with the Color Selection and Design
If you are a new homeowner and you are painstakingly laboring over color schemes and design choices, the professionals at Prime Time painting can help you out with design advice. After countless projects, our professionals have developed an eye for the type of paint and color that looks good when it's actually applied. Our team can also help you with brand choices that will better fit your budget. Odds are that if you find a paint that you like, there may be a more cost-effective alternative. You may also be advised on extra materials based on your location, materials such as high-durability paints and primers that can better withstand the impact of UV rays and weather conditions.
A deadline is always looming on a building project, and general contractors may not be the best prepared to deliver the level of quality that you are looking for on time. This can lead to project delays, which result in unexpected expenses, and other stressful outcomes. Our team of professionals, on the other hand have the right tools, skills and experience to meet deadlines at a high standard of quality. Homeowners who are painting their new homes stand to benefit, as they will be able to move in faster and get their new life started as soon as possible.
Interested in Finding Out more About Prime Times' New Construction Painting Services?
If you'd like to receive a quote for your new home construction painting project, contact us today. We are property painting specialists, and we have the years of experience and the right equipment for your job. By choosing to work with us, you can expect a high-quality finish, advice and assistance during the project, and a timely project completion. Please do not hesitate to get in touch with any other questions you may have. Our professional consults provide free consultations and free written estimates.